3001 Cypress Gardens Rd Winter Haven, FL 33884
(Across from Bank of America)

Location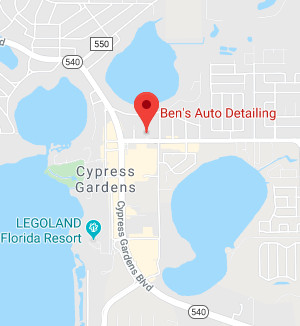 26 Years of Experience | 20 Years Same Area Location
Ben does everything from hand car washing and drying to complete detailing, polishing and buffing with no swirling. Call today and ask about hand waxing, orbital buffing, interior cleaning, carpets shampooing & steam cleaning, leather cleaning & conditioning, odor removal, over-spray removal on exterior paint finish and claybar use (professionally done). He also does no-haze window cleaning and minor paint touch-up / chip-repair.
Only the best waxes and polymer / teflon sealants are used
Great Work
This small business is awesome. Ben does a great job at a reasonable price. You can tell he takes pride in his work and his business. We have been very impressed several times with how cars looked when we took them there. We would not go anywhere else. Highly recommended!